Greetings in the Lord Jesus,
I am the Head Pastor and if you are considering Farm Loop as your church home you probably want to know a little about me and my family.

I am a graduate of Fuller Theological Seminary Class of 1978. I began ministry at the age of 21.

Shirley and I have been serving as the pastoral family of Farm Loop for twenty-one years this May. We have also served as missionaries in China, India, Tanzania and the Philippines.

Our goal in ministry is to train and release believers into ministry. We base this philosophy and goal on Ephesians 4:12 where pastors are directed to train up the saints for the work of the ministry.

Farm Loop ministries are led by the every day people in our congregation. Shirley and I enjoy watching churches grow and enabling people to share in the ministry. It does not always look like we imagine but usually better as our folks release their gifts and creativity.

As Head Pastor I have several key priorities:
1. Preach and teach in a way to reach men. Our congregation is 50% male and 50% female.
2. All teaching is from the Bible
3. Families are important
4. All people are valuable to God so all people are valuable to me.

May you be blessed and may you be a blessing as you follow Jesus Christ.

Blessings,
Ben King was raised in the valley and graduated from Palmer High School. He then attended one year at Grove City College in Pennsylvania. During his winter break in 2013, he was asked by Pastor John to become an intern. Since then he has been serving at the church in various capacities. In 2017 he graduated from Alaska Bible College with a B.A. in Biblical Studies and Christian Ministries with an emphasis in Pastoral Studies. Currently he is working on his M.A. in Religion with a discipleship and church ministry emphasis from Liberty University. At this time, Ben leads the young adults ministry. It is life giving for him, an encouragement and a joy to be involved in the lives of the young adults. He also oversees the connect groups ministries and helps his wife with her worship team. His desire is to abide in the Lord, following his calling and teach the word of God. Ben also loves mentoring and meeting with God's people. Ben has an incredible family, with a beautiful wife named Lily and amazing sons named Jonathan and David. In his free time, Ben loves to be with his family, read a book, play sports, go running, hiking or camping or hangout with friends.
Lehvi Minder is incredibly blessed to have become a believer in early childhood. He has a Bachelor's degree in Biblical Studies from Alaska Bible College. Lehvi has attended Farm Loop since 2006 and has been actively involved in ministry since May of 2015. He serves as the Director of High School Ministries.
Arielle Squires grew up in the Air Force and returned to Alaska in 2017. She graduated from Lancaster Bible College with a Bachelor's degree in Children and Family Ministries. She is a wife and mom of 2 young boys with a passion to see children and families thriving. Adventures outside with family and friends is one of her favorite ways to spend free time.
Rachel grew up in the Fairbanks area before she moved to Palmer to attend Alaska Bible College, where she is currently pursuing her bachelors degree in Biblical Studies. Rachel's interest include art, music, hanging out with friends, and church ministries. As Rachel continues in the internship at FLCC, she hopes to grow in her relationship with God, and encourage others around her to do the same.
Svend is a freshman at Alaska Bible College where he is studying for his Bachelor of Arts in Biblical Studies and Christian Ministry with a Pastoral Emphasis. At Farm Loop he runs the video team that produces the announcement videos for Sunday as well as livestreaming the sermon. Outside of this, Svend also runs The Armory, a young adults group with an emphasis on equipping young adults to use their spiritual giftings to serve the community as well as edify their brothers and the church. In his free time Svend enjoys playing games and hanging out with his friends. In addition to this he also highly enjoys listening to old records and reading fantasy books. Svend highly recommends The Rithmatist by Brandon Sanderson.
Caleb Christensen grew up in Fairbanks AK. After graduating highschool he started as a freshman at Alaska Bible College, as well as an intern at FLCC. Currently he is pursuing a bachelor's degree in Biblical studies. Caleb is active in our middle school ministries, as well as being a part of the tech booth team. His goals while being an intern at FLCC include, growing in his relationship with God, broadening his experience in ministry and leadership positions, and seeking to fulfill God's calling for his life.
Stephen has been an intern since 2019 and is currently pursuing his bachelors degree in biblical studies at Alaska Bible College. He enjoys spending time with his wife Caitlin and two children, Bethany and Peter. His interests are reading the Bible, serving the Lord, music, hiking, biking, and being outdoors.
Anna was born in Homer, Alaska and moved to Palmer in 2012. She graduated high school in 2020 and is pursuing a Bachelor's in Biblical Studies and Christian Ministry with an emphasis in Philosophy of Religion. She also started on as an intern at FLCC to work with the Middle School youth. Through these outlets and others, she hopes to deepen her relationship with God and serve others. Outside of ministry, she enjoys exploring the outdoors, working with animals, music, and traveling.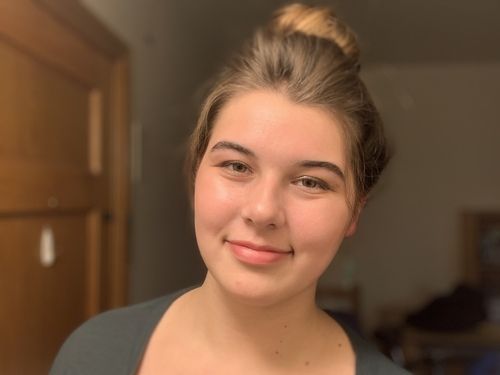 Abigail Lindquist was born in Missoula, Montana, and moved to Alaska in 2002. She is currently pursuing an Elementary Education degree at the Alaska Bible College. She started her internship in 2022, with a passion for Children's Ministry. Additionally, she helps run the Armory, a young adult's group with her husband. She looks forward to seeing where God leads her and what her future holds.